---
Fuji Heavy Industries Ltd.-aneb od letadel,přes vlaky až ke čtyřkolkám:

Počátky Subaru se dají datovat až k počátku dvacátého století. 10. prosince roku 1917 založil Chikohei Nakajima v japonském městečku Ota laboratoře pro letecké konstrukce.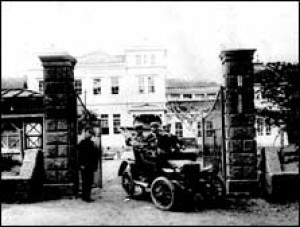 O něco později vzniká z těchto laboratoří společnost Nakajima Aircraft ,která se prosazuje v leteckém odvětví a dodává motory pro japonské bitevní letouny. Po ukončení druhé světové války se rozpadá obrovská finanční skupina Zaibatsu,jejíž součástí je i Nakajima Aircraft . Se změnou výrobního programu pro civilní účely se mění i název firmy na Fuji Sangyo a i přes to se na nátlak americké diplomacie společnost rozmělňuje na dvanáct malých. V těchto letech se v produkci firem objevuje první japonský scooter Rabit, nebo první autobus s motorem vzadu. Fuji však svůj boj nevzdává a 15.6 1953 se jí daří opět sloučit šest firem a vzniká tak Fuji Heavy Industries (FHI) což je mateřský koncern japonské automobilky Subaru. Zde se dá také

vystopovat proč šest hvězdiček v oválu, je to šest viditelných hvězd souhvězdí Plejád což symbolicky v překladu znamená spojení. V roce 1955 se objevuje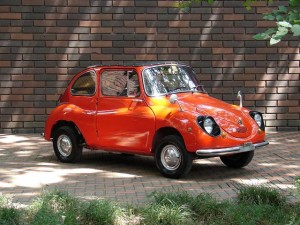 první prototyp osobního automobilu s názvem P-1, u kterého však pro nedostatek financí nedochází k sériové výrobě. O tři roky později sjíždí z výrobních pásů automobilky první Subaru s označením 360.Počátkem šedesátých let se FHI opět věnuje i leteckému odvětví a vyvíjí turbovrtulový letoun YS-11,a následně turbínové vrtulníky. Rok 1966 je z hlediska automobilizmu zajímavý tím,že Subaru předvádí jako první na světě sériově vyráběný vůz (Subaru 1000) s pohonem přední nápravy a ještě k tomu poháněný plochým motorem. V roce 1968 FHI expanduje i do Ameriky,kde otvírá ve městě Lafayette pobočku SUBARU of America Inc.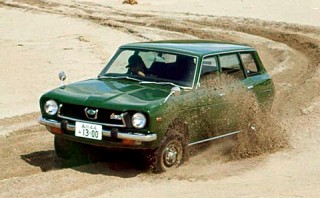 Dalším mezníkem byl rok 1972, kdy automobilka uvedla na trh vůz Leone Station Wagon 4WD, který nastolil jasný směr jakým se bude Subaru ubírat. Leone je principiálně postaveno na stejném základě jako dnešní modely (Impreza, Forester, Legacy, Outback, Baja, Tribica), to znamená systém pohonu všech nezávisle zavěšených kol, symetricky uspořádán v jedné horizontální linii poháněné plochým boxer-motorem, což zajišťuje nejnižší těžiště a skvělé jízdní vlastnosti. Kvůli zvyšování produkce je roku 1986 otevírán nový závod Ta Ching MOTORS (Joint Venture) na Tchaj-Wanu a o dva roky později je vytvořena japonská dceřiná společnost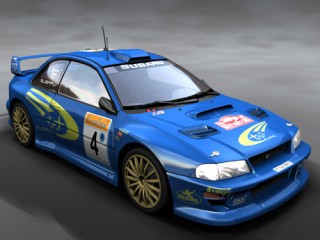 Subaru Tecnica International (STI),jejíž náplní práce je úprava sportovních vozů. Do podvědomí evropských řidičů se Subaru dostává až počátkem devadesátých let, kdy se začínají prodávat modely Legacy a později hlavně Impreza. Velkou zásluhu na tom mají úspěchy v rallyových soutěžích, kde se třikrát stalo mistrem světa konstruktérů a třikrát mezi jednotlivci, nebo třeba propagační akce , kdy Legacy ujelo 100 000Km průměrnou rychlostí 225,3 Km/hod. V roce 1999 GM zakupuje 20% akcií a vzniká několik společných projektů, jako třeba Saab Aero na bázi Imprezy, nebo Opel Zafira s pohonem čtyř kol, nic z toho však nemá valné trvání a GM opět svůj balík akcií prodává. Po nástupu nového ředitele Kyoji Takenaka roku 2001,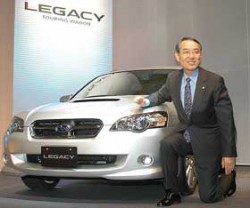 Subaru výrazně omezuje program autobusů a kolejových vozidel a naopak se klade větší důraz na investice do produkce osobních vozů. Důkazem toho je i povolání věhlasného šéfdesignéra Andrease Zapatinase. Celkově se o koncernu Fuji Haevy Industries potažmo o společnosti Subaru dá říci, že se nikdy nebálo zavádět nové a revoluční technologie do sériové výroby a důkazem je i úplně nový turbodieslový motor typu boxer,jenž představily na letošním autosaloně v Ženevě.
Als 4.11.07

 

Komentáře
Přehled komentářů
---
---